28-09-11
Twee weken in China : Shanghai - Pudong 12 - Jinmao Tower 01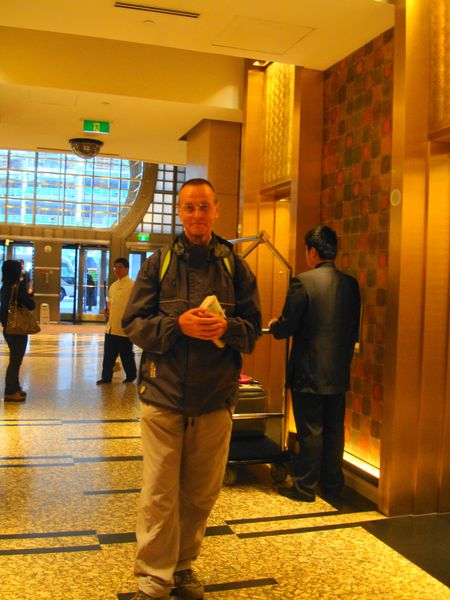 The Jin Mao Tower (simplified Chinese: 金茂大厦; traditional Chinese: 金茂大廈; pinyin: Jīn Mào Dàshà; literally "Golden Prosperity Building") is an 88-storylandmark supertall skyscraper in the Lujiazui area of the Pudong district of Shanghai, People's Republic of China. It contains offices and the Shanghai GrandHyatt hotel. Until 2007 it was the tallest building in the PRC, the fifth tallest in the world by roof height and the seventh tallest by pinnacle height. Along with theOriental Pearl Tower, it is a centerpiece of the Pudong skyline. Its height was surpassed on September 14, 2007 by the Shanghai World Financial Center which is next to the building (see previous photos). The Shanghai Tower, a 128-story building located next to these two buildings and now under construction, will be even taller.
The building is located on a 24 000 m² plot of land near the Lujiazui metro station and was built at an estimated cost of 530 million USD.
It was designed by the Chicago office of Skidmore, Owings & Merrill. Its postmodern form, whose complexity rises as it ascends, draws on traditional Chinese architecture such as the tiered pagoda, gently stepping back to create a rhythmic pattern as it rises. Like the Petronas Towers in Malaysia, the building's proportions revolve around thenumber 8, associated with prosperity in Chinese culture. The 88 floors (93 if the spire floors are counted) are divided into 16 segments, each of which is 1/8 shorter than the 16-storey base. The tower is built around an octagon-shapedconcrete shear wall core surrounded by 8 exterior composite supercolumns and 8 exterior steel columns. Three sets of 8 two-story high outrigger trusses connect the columns to the core at six of the floors to provide additional support.
23:27 Gepost door Walter in Vrije tijd | Permalink | Commentaren (0) | Tags: shanghai, pudong, jinmao tower, wolkenkrabbers, skyscrapers, toerisme, reizen |
Facebook |